News
Toyo becomes National Partner of the IAAF WCH London 2017
June 7, 2017
Toyo. New Information For Immediate Circulation.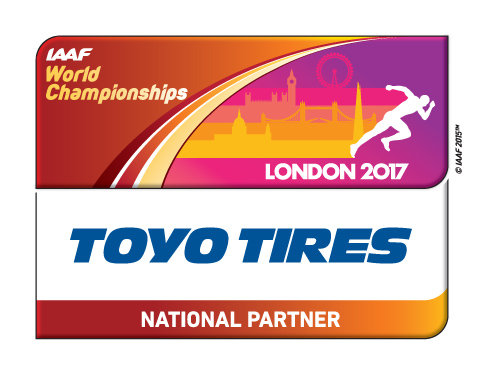 Toyo Tires become National Partner of the IAAF World Championships London 2017
Toyo Tires announces it has become a National Partner of the International Association of Athletics Federations (IAAF) World Championships London 2017. The partnership demonstrates Toyo Tires' increasing commitment to athletics and sporting events.
The premier fixture on the global athletics calendar, the IAAF World Championships take place in London between the 4th and the 13th of August. The Championships will host 2,000 of the world's finest athletes in the Olympic Stadium in London's iconic Queen Elizabeth Olympic Park.
Like tickets for the Championships, Toyo Tires are in high demand with sales surging in 2017. The introduction of the new Proxes Sport tyre pushing the boundaries of tyre design and material technology to unprecedented levels.
Toyo Tires (UK) Managing Director, Keishi Inoue, welcomed the partnership saying "Toyo Tires is delighted to be taking a prominent role in the biggest global sporting event of the year. Dedication, preparation and exacting standards are synonymous with the pursuit of the best performance for both athletes and premium tyre makers."
For further details about the IAAF World Championships London 2017, visit:
www.iaafworldchampionships.com
For further information about Toyo Tires range of Car, SUV and 4x4 tyres, please visit:
-Ends-
Established in 1945, Toyo Tires are one of the 20 largest tyre makers in the world, with sales of around $4 Billion. Toyo Tires celebrated its 70th anniversary in 2015, renewing its' commitment to quality, innovation and performance. With a long history of sporting and motorsport participation, Toyo Tires are currently sponsors of AC Milan, Leicester City FC, Zenit St Petersburg and Düsseldorf Fortuna.
London 2017
The London 2017 Organising Committee is delivering the IAAF World Championships on behalf of UK Athletics, the Greater London Authority and UK Sport, supported by Department for Culture, Media and Sport, following the event being awarded to London in November 2011.
The IAAF World Championships London 2017 take place from 4 – 13 August at the Olympic Stadium and, alongside the World Para Athletics Championships London 2017, are together the biggest sporting event of the year. You can find out more at www.iaafworldchampionships.com