Wright to stop "mucking about"
World Champ ready for PL glory
---
PETER WRIGHT has vowed to stop "mucking about" and start winning for his Scottish homecoming.
The Livingston-born ace will make history as the first-ever Scot to play on home soil as World No.1 at the P&J Arena in Aberdeen tonight.
Wright, 52, faces Joe Cullen in a crunch Premier League clash and he admitted he has to stop "stupidly" switching arrows.
He revealed: "It's great to have a homecoming as World No.1 for the first time.
"Last time in Aberdeen was just before lockdown in early 2020. I played MVG and lost 7-5 and it was the first time we'd been at the venue, it had just opened.
"The atmosphere wasn't as good as it was in the last venue in Aberdeen. But I think it's going to be better this time. I think even the fans thought 'oh this isn't quite the same'. I think it will be pretty special this time.
"I've been switching my darts stupidly. That's why the results have been up and down. One minute I'm averaging over a ton and the next second in the same night I'm averaging 80. It's the lack of consistency that doesn't win you games.
"When I flew in from Munich this week I told myself to stop mucking around with all these darts. I've got some important stuff coming up. I've got to make sure I stay in the top four in the Premier League and be on form for New York that's coming up. There's also the World Cup and I need to make sure I'm playing well so John (Henderson) doesn't need to carry me!
"We haven't got many weeks left, that's why I've decided to stop mucking around with the darts and let the darts do the talking."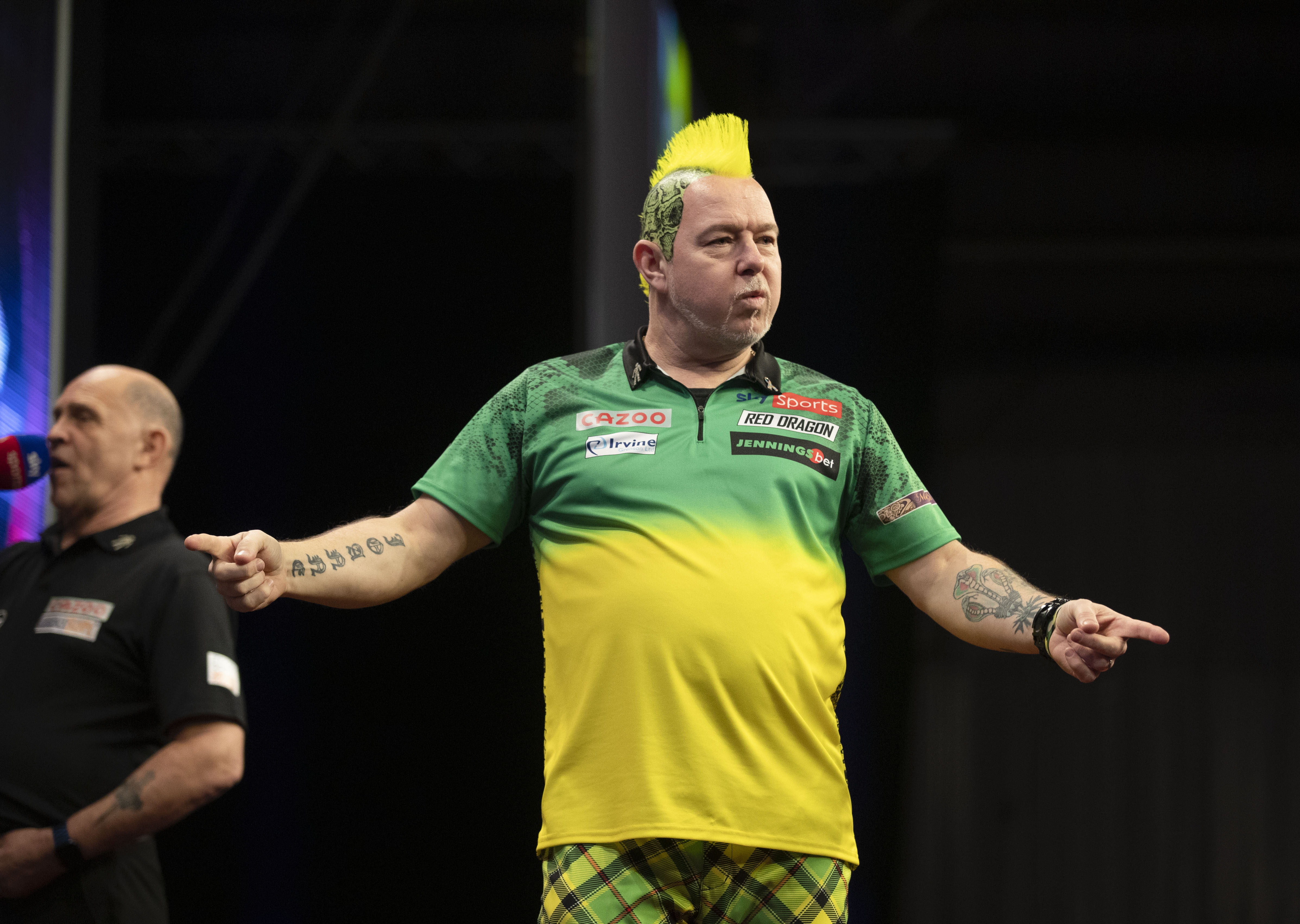 Last week's finalist Cullen could overtake Wright and dump him out of the top four with a victory to silence the home fans.
Wright added: "Joe is full of confidence. I'm out there to win, that's my job. I think I will win - and the whole thing.
"I've been mucking around with darts, I'm fed up with giving people chances. Now is the time to knuckle down and use the gold ones and blow everyone off the board which they all deserve.
"He can think about getting into the top four, but he won't. Unlucky Joe!"
Wright also revealed he is dealing with his gallstones pain with a healthier diet and also denied heckling Michael Smith in Nottingham last month.
He added: "My health is still up and down. But I can't do much about it, I just try to eat healthy and stuff like that. It's old age creeping up on me I think!
"I've been banned from eating crumpets. I'm just cutting down on eating the fatty foods. That's just what aggravates the gallstones.
"It wasn't a heckle. It was a little joke on the way out the door just to Gaz to wish him luck. I just said 'Michael can't win finals can he'.
"But I've been behind Michael since and wishing him well. He knows it was just a bit of banter. He just didn't take it that way at the time."
Order of Play, 7pm, Sky Sports.
Quarter-Finals:
Jonny Clayton v Gary Anderson
Peter Wright v Joe Cullen
James Wade v Michael Smith
Gerwyn Price v Michael van Gerwen
Words: Phil Lanning Images: Taylor Lanning.