News
Proxes CF2 Launched
May 23, 2013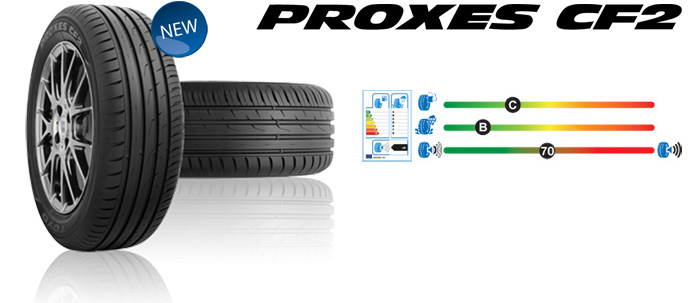 The launch of the all-new Proxes CF2 brings an exciting new tyre that promises the highest levels of safety, grip and wet-weather performance in an attractive case design that comes in many sizes and fitments. The New Proxes CF2 offers exceptional all-round ability and excellent value.
Ideal for medium and high-powered cars, the CF2 utilises the very latest materials and production methods, drawing heavily from our Ultra-High Performance and Motorsport ranges, to create a tyre that offers exceptionally high levels of safety, durability, value and comfort.
Safety was high on the wish-lists of our engineering team during the design phase, and this is evident in the innovative tread compound and optimised pattern stiffness. Not only does the Proxes CF2 offer exceptional water evacuation capability, but also, an impressive 15% better wet-weather grip than its predecessor.
An optimised tread pattern ensures maximum braking performance in all conditions and situations, combined with reassuring and communicative handling. Wet or dry, the Proxes CF2 is a tyre that telegraphs information back to the driver for an involving and rewarding driving experience.
Although the Proxes CF2 has clearly been designed to be highly capable on all conditions, we have also been equally stringent in our design demands for comfort and efficiency. Low noise and excellent high-speed stability ensure a smooth and comfortable ride, while the clever blending of Super Active, Grip and Wear Resistant polymers offer drivers improved fuel economy and 25% less rolling resistance than the outgoing Proxes CF1. The tyre itself is capable of up to 41% longer life than the outgoing model too, showing just how much development has gone into this clever case design.
The case itself is an object lesson in the latest thinking. Four deep and wide longitudinal grooves move standing water in an instant, whereas the jointless cap ply and polyester casing promise durability, response and stability. Ribbed shoulder blocks offer low noise at motorway speeds and the lightweight construction ensures low rolling resistance and noise – only 70dB under the new EU labelling programme.
The Toyo Proxes CF2 is available in a wide range of sizes. To begin with, some 45 different fitments will be available upon UK launch, ranging from 175/65/R15 through to 235/45/R17. If safety, economy, comfort and handling are what you need from your car, then Proxes CF2 is the perfect all-rounder.