News
Early Success for Toyo Tires at D1GP
10 May 2021
D1 GRAND PRIX Round 1 and Round 2 Report. Held at Okuibuki Motor Park in Shiga Prefecture on April 24th (Sat) and 25th (Sun).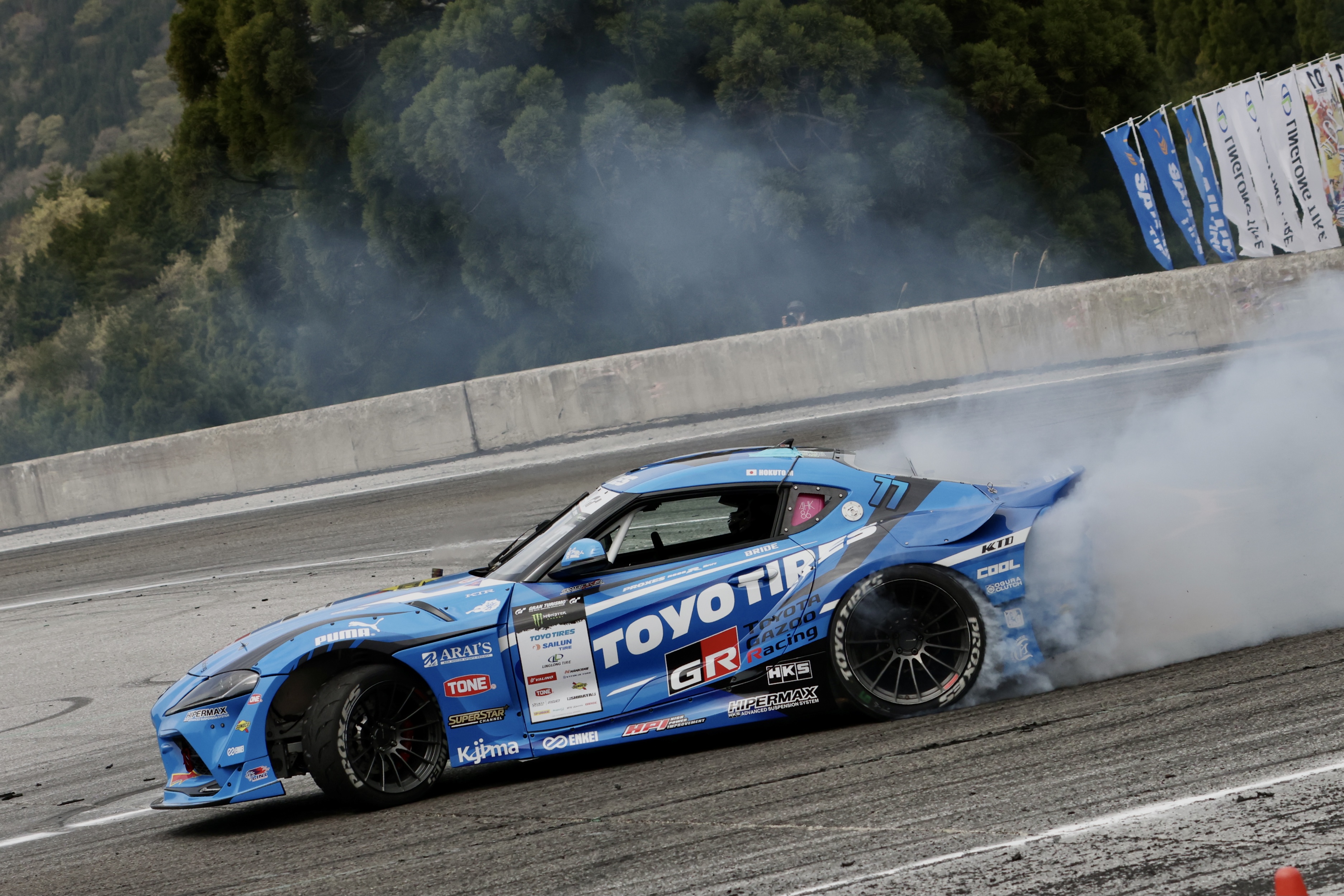 This year's "Team TOYO TIRES DRIFT" will be challenged by two players, Masato Kawabata, who will participate in the Supra race following last year, and Hideyuki Fujino, who will participate in the TOYOTA 86 with a machine change. In addition, as a tire support player, we will continue to support Yukio Matsui, Toyota Motor Corporation employee Hokuto Matsuyama, and Masataka Kawashima from this year! Blessed with the weather, the opening race "OKUIBUKI DRIFT" was held in a perfect day for the race. In the race, Fujino showed a skillful run and won the 1st place overall in the series, and Matsuyama got the perfect position of 4th place! Furthermore, in the single-run series, Matsuyama, who gained momentum, won the championship for two consecutive races and was in first place, and Fujino was in third place. We have recorded a video of the fierce battle for two days, so please enjoy it The D1GP2021 series has just begun. Thank you for your continued support!
* This tournament was held with all possible measures against new coronavirus infectious diseases.
After Rd.1 and Rd.2 Toyo Tires Support drivers standing are:
Drivers Ranking
No.1 Hideyuki Fujino
No.4 Hokuto Matsuyama
No.13 Masato Kawabata
No.15 Yukio Matsui
Tanso Ranking
No.1 Hokuto Matsuyama
No.3 Hideyuki Fujino
No.13 Masato Kawabata
No.14 Yukio Matsui
Team Ranking
No.4 Team TOYO TIRES DRIFT
Official IG accounts for Team Toyo:
Matsuyama: @hokutomatsuyama
Kawabata: @kawabata_tmr
Fujino: @wisteria180sx
Matsui: @yukiomatsui
D1GP official: @d1gpse
TOYO TIRES JP: @teamtoyotiresjp
Read more on D1GP 2021 Here