IT'S ROB-IN HOOD!
Cross shows arrows accuracy in Nottingham
---
ROB CROSS vowed that Robin Hood would have been proud of his almost impossible arrowing accuracy in Nottingham.
The 2018 World Champion delivered a 'banana' throw to turn a gritty battle with Nathan Aspinall in his favour in the Unibet Premier League last night (Thurs).
Voltage had to move two foot from the centre of the oche to find a double 16 finish and then grabbed the 7-5 victory with a cracking 112 outshot at the Motorpoint Arena.
Cross, now unbeaten after two matches, said: "I reckon that Robin Hood would have been proud of how I found the target!
"It was proper pressure. I'd missed the first two chances and I knew if I missed again Nathan was in to break my throw and favourite to win the match.
"I don't really know how but I found a gap. I think it was fate in the end, fate found a way for the dart to get into the double."
Cross, pictured below, has been struggling to find form with first round exits in the previous two majors and hadn't won a match on TV since late November.
But he admitted sudden loss of weight was taking some getting used to. He added: "I've lost three stone and I feel great. But obviously that has altered my throwing a bit, so my darts have taken a shuffle.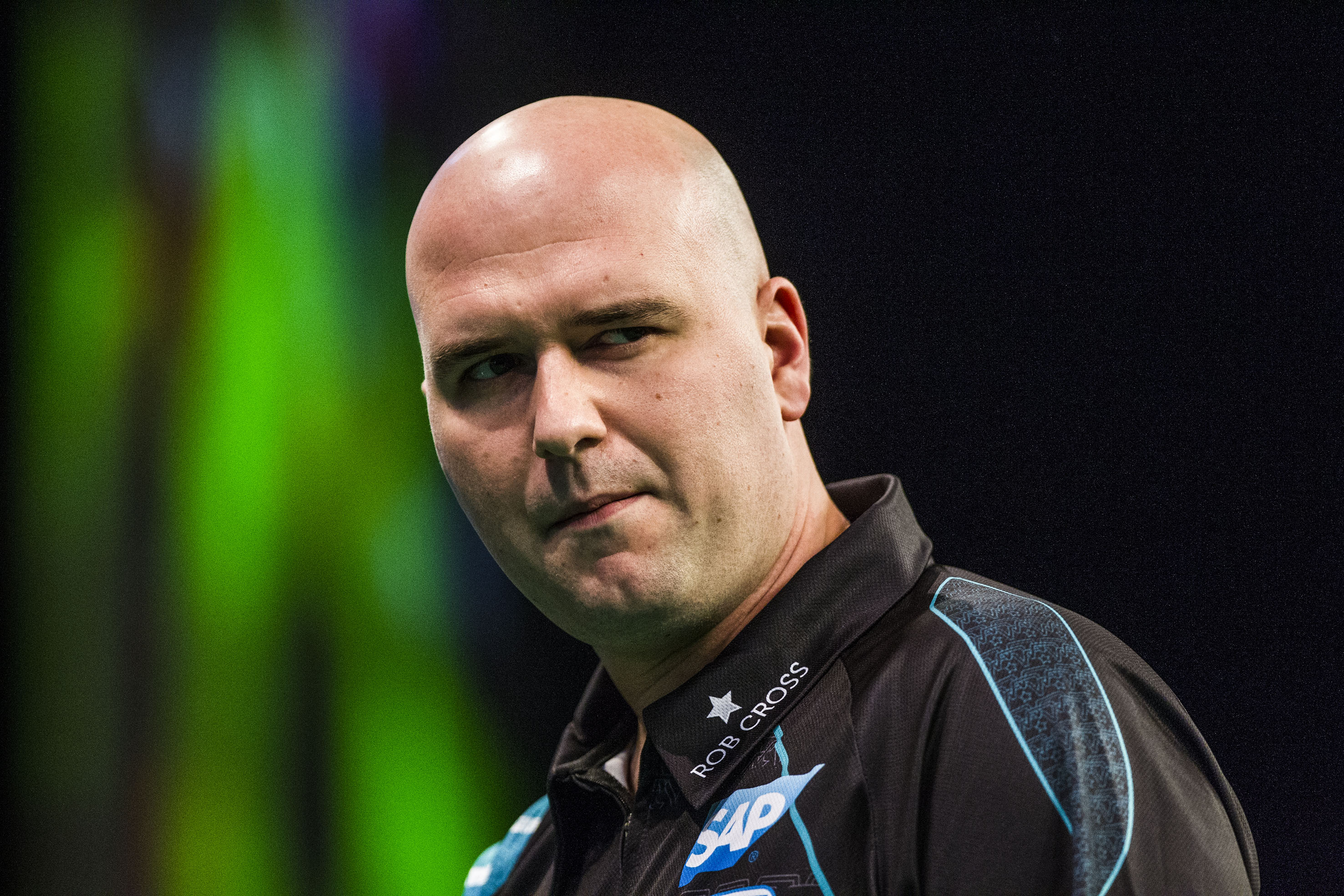 "I'm working so hard. That was a real graft. I know I'm not playing all that well but I'll keep improving. I want to get the best I can from this game.
"I know I was doing things wrong last year. I was eating whatever I wanted, when I wanted and that's not good for you at all. But I lost at the Worlds and I knew I had to change it.
"I will get better and start to get the results I want. I'm putting in the hours and in the end the hard work will pay off.
"It's a big result for me because Nathan has been on fire. It's been a good week with my missus Georgia expecting our fourth baby. It's a nice way to celebrate with a win."
Gerwyn Price came back from the dead for the second successive week to grab a draw. The Welshman was 6-2 down and toiling but somehow found an extra gear to win four legs on the bounce to draw with Michael Smith.
Price said: "Last week I should have won but how good did Michael play today. I thought I was playing well but he just wasn't missing anything.
"At 6-2 I thought I'd lost the game but I never give up and Michael gave me a few chances at the end."
Smith added: "When I got to 6-5 I thought I've got a point instead of trying to kill it, I need to kill off games. I'm desperate for a win. My main aim tonight was to keep Gezzy quiet. But he wouldn't be quiet in an empty room this guy!"
Words Phil Lanning
Images Taylor Lanning